Dear participants IAME SERIES NETHERLANDS- DUTCH CHAMPIONSHIP IAME 2020 Event 1 Mariembourg
Finally, the season can start. We are going to Mariembourg with a larger group of participants than ever.
In the weekend of February 29th and March 1st we go for the first round of the
IAME SERIES NETHERLANDS- DUTCH CHAMPIONSHIP IAME 2020 to the great track Karting des Fagnes Mariembourg in Belgium.
Contact organisation
Our secretary, Mrs. Lidia Filius, will be your contact during the race weekend towards organization and racemanagement. Lidia will take notice of your questions and comments and, if necessary, provide feedback.
Information in general
1. All documents – as Reglements, Timeschedule, Registrationform, Tyres, Costs, Mandatory Fuelstation - will be placed as downloads on our internetsite www.nkiame.nl.
2. Transponders can be rented from the organization (€ 25,00/weekend). Request to hire Transponder via the link http://users.telenet.be/racetiming/contact.htm
3. Please do not forget to bring your Driverlicence and if applicable your Parent-Child licence to the administrative control on Saturday. (Time stated in Timeschedule).
4. Use of motorized vehicles such as scooters and mopeds in the paddock is strictly forbidden: please  leave these vehicles at home. Please note, this is made punishable in the Sporting Regulations.
Mandatory fuelstation
The mandatory fuelstation is Total, Route Charlemagne nr 33, 5660 Couvin.
See the flyer, download on our site. Please keep your fuel receipt. You must show this organization upon request.
Tyres
Tyres, both slick and rain, are delivered only by PDB Vlaardingen, email pdbkart@pdbkart.nl.
It is not allowed to drive with your own tyres.
Please do not forget to order your tyres on time at your authorized IAME dealer.
Classes
1. Mini-Parilla 60cc + Subklassement Rookie
2. X30 Junior + Subklassement Rookie
3. X30 Senior + Subklassement Rookie
4. X30 Super Shifter (175 cc)
The sub-classifications in the Mini-Parilla and X30 Junior classes are new.
The X30 Cadet class has now been canceled.
Registration and administrative control
1. You can register for one or more races via http://www.nkiame.nl/inschrijven/
2. Registration / administrative control: Friday 5:00 pm to 7:30 pm, Saturday 8:00 am to 11:00 am.
3. Please take the Registration Form ("Registratieformulier", download on our internetsite) completed and signed to the administrative control. That will save you and us a lot of time.
4. Please do not forget to bring your VOUCHER. This is your proof of reservation.
Free training Mariembourg
1. The openinghours of the track can be found on the web page http://www.kartingdesfagnes.com.
2. It is advisable to check the page frequently for possible updates.
3. The track will be open for free training on Wednesday February 26th and Friday February 28th.
Fee trackrent Mariembourg is not included in registration fee race (to be paid in the shop).
Paddock, Campingsite, Electricity
1. Supply of electricity through the organization in the paddock for the weekend is mandatory. Costs € 20.00 for the weekend, to be paid in cash at the administrative check.
2. You can place your tents in the paddock from Wednesday February 26th.
3. Electricity camping is available. To be paid in the shop.
4. To stay  overnight in the paddock is forbidden.
5. On arrival at the circuit, it is necessary to contact the responsible person before you place your tent(s); Ben de Feyter (0032479803159)
6. No caravans or mobile homes are allowed in the paddock. These should be posted on the site.
7. Your cars should be parked outside the paddock on the designated park.
Warm-up engines
1. It is strictly forbidden to warm up engines. It is allowed to start the engine, but the engine must also be switched off immediately. Please note, this is made punishable in the Sporting Regulations.
2. For the class X30 Super Shifter, the following exception is made: half an hour before the start of each training and race there is a period of 5 minutes during which the engine may be warmed up; only at entrance Parc-Fermé.
Legenda
Karting des Fagnes
Rue du Karting (Parc Industriel) 13
B-5660 Mariembourg, België 
Internet http://www.kartingdesfagnes.com
Email info@kartingdesfagnes.com 
Tel 0032(60)312670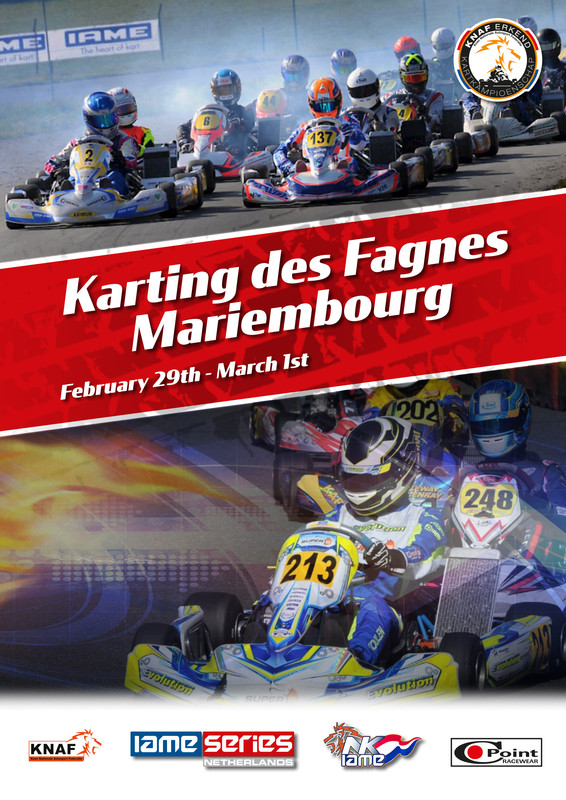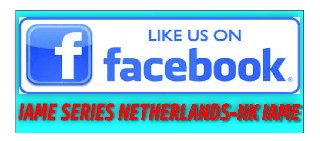 ---
C.point Racewear, Made to Win